When a 500,000 lbs tow capacity is what matters, this is the truck for you
When you need tackle the biggest and toughest jobs, there's only one truck out there – the Western Star 6900. As a tractor, it can pull loads over 500,000 pounds all day long. And with a body, it can move 80,000. Add in the engine choices and build options, and you've got a truck that's as versatile as it is powerful.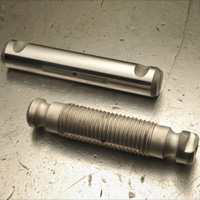 THREADED SPRING PINS
Greaseable threads prevent spring from moving side to side within the shackle. Our exclusive design threads the pins directly into the spring bushing providing much more stability, improved feel and overall handling.
LARGE DOOR OPENING
Makes it easier and safer to get in and out of the truck.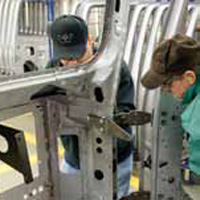 FORGED STEEL DOOR HINGES
Internally mounted to protect from the elements. Greater durability to prevent sagging -- a common problem with piano hinges.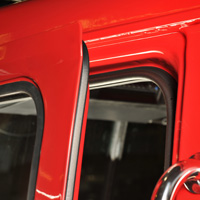 DOUBLE DOOR SEALS
Both the door and the cab have a weather seal that covers its perimeter. This double seal helps maximize the efficiency of our HVAC systems and provides a quieter ride.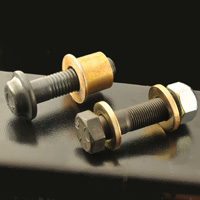 GRADE 8 FRAME FASTENERS
Grade 8 fasteners allow for optional equipment to be installed on the frame, and retorqued in the field as needed.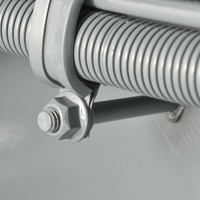 WIRING STAND OFFS
Our wiring and air bundles are supported off the frame rail. This allows debris to pass behind the bundle, eliminating the possibility of abrasion which can lead to electrical and air failures.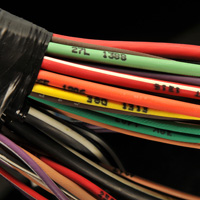 LASER-ETCHED CHASSIS WIRING
Laser etching and color coding ensures ability to troubleshoot wiring issues for the life of the truck.
CAB INSULATION AND SOUNDPROOFING
Barium insulation is placed between the double walled steel cab. This increases the thermal and acoustic insulation of the truck. Our floor pads are thick which further improves the quiet ride of a Western Star.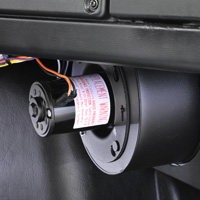 IN-CAB BLOWER MOTOR
Protected in the cab rather than being on the firewall and exposed to elements.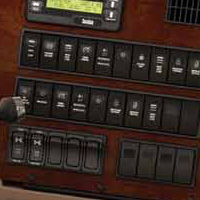 MARINE-GRADE ROCKER SWITCHES
Large waterproof switches are easy to operate with gloves on and are protected from water and salt which can create shorts.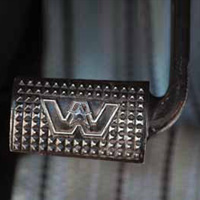 SUSPENDED PEDALS
Suspended brake, clutch and accelerator pedals are easy to clean, and prevent objects from becoming lodged behind pedals -- a great safety feature.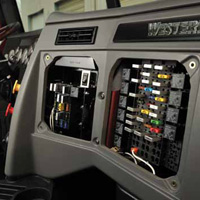 POWER DISTRIBUTION MODULES
The PDM and fuses are easily accessed by removing a panel on the passenger side dash. This allows you to sit comfortably in the cab when working on fuses rather than accessing them in an exterior location.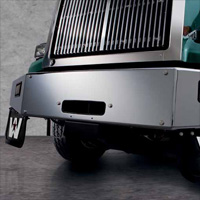 TOW PIN
Integral to the front closing cross member, our towing pins withstand 65k lbs of line pull from a 45 degree angle. The centralized pin equalizes pulling force between the frame rails.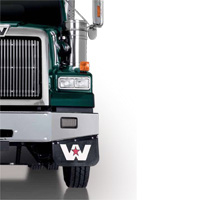 OUTBOARD CAB MOUNTS
Placed as wide as possible to maximize lateral stability. Provides a more comfortable ride on rough terrain and reduces body roll in turns.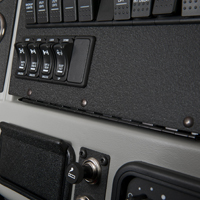 HINGED DASH
Provides quick access to wiring for service.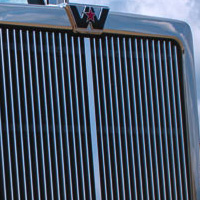 REPLACEABLE GRILLE BARS
Bars can be replaced one a time rather than having to replace a complete grille.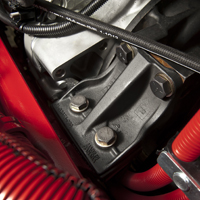 NODAL ENGINE MOUNTING
Our power units are mounted on clutch housing instead of fly wheel housing which supports the power unit closer to the output shaft of the transmission where the torque is greater. This results in less frame flex and a better ride.
J-BRACKETS AND RIBBED STRAPS
Western Star fuel tanks ride on j-brackets and are held onto the bracket with steel straps that have ribbed isolators which increases the grip on the tank to prevent tank roll.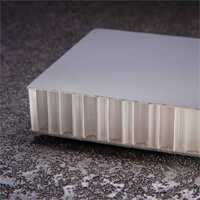 HONEYCOMB SLEEPER WALL
A polypropylene honeycomb material is sandwiched between two sheets of aluminum. This construction results in the strongest and lightest sleeper material in the industry. Airplane bulkheads use this same strong, lightweight construction.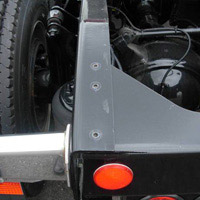 RECESSED BOLT HEADS
For fifth wheel applications, the closing cross member fasteners are recessed in the frame rail to eliminate the protrusion of a bolt head which can cause damage to trailers and the chassis. Closing cross members and frame rails are tapered with recessed bolts to give a smooth transition for trailers, and reduce the risk of chassis and trailer damage.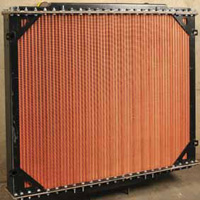 COPPER BRASS RADIATOR
Provides superior heat transfer and is repairable in the field. Bolted steel tanks are repairable and rubber-isolated frame mounts protect against twisting.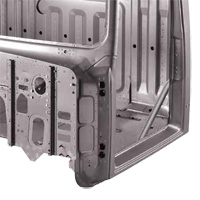 SEVERE SERVICE CAB OPTION
Extra gussets are welded into the cab to provide extra strength for severe service application.
Tough on the outside. Very
comfortable on the inside.
We know you want a choice when it comes to your truck engine. With Detroit and Cummins options, you can pick the right engine to get the job done with efficiency, toughness and power.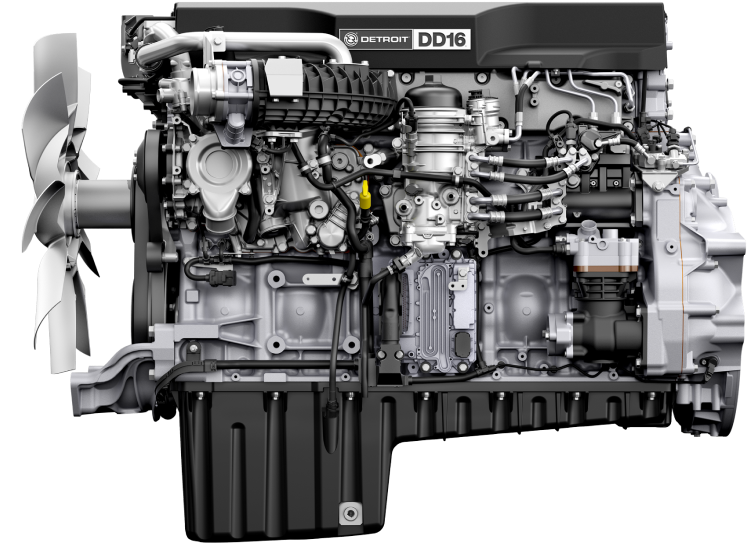 Severe Duty galvannealed steel with roped-in or bonded windshield
1. Fiberglass hood with LH and RH full length butterfly openings 
2. Heavy-duty non-sloping hood
1. Detroit™ DD15,® 14.8L, 455-505HP, 1550-1750lb-ft. 
2. Detroit™ DD16,® 15.6L, 500-600HP, 1850-2050lb-ft. 
3. Cummins X15, 15.0L, 400-605HP, 1450-2050lb-ft.
1. Eaton Fuller 10-, 13-, 15- and 18-speed
2. Allison Automatic 4000, 4500, 4700 RDS
1. Meritor single 20,000 lbs
2. Dana Spicer single 22,000-24,000 lbs
3. Dana Spicer tandem 44,000 and 52,800 lbs
4. Sisu single 28,000 lbs
5. Sisu tandem 61,600 lbs
1. Meritor tandem 46,000-70,000 lbs
2. Meritor tridem 69,000lbs
3. Sisu tandem 70,000 lbs
4. Sisu tridem 105,600 lbs
5. Axletech tandem 85,000-110,000 lbs
1. Flatleaf slippered 21,000-28,000 lbs
2. Slippered tandem 36,000 and 40,000 lbs
1. Hendrickson 46,000-110,000 lbs
2. Chalmers 46,000-110,000 lbs
3. Neway 52,000-90,000 lbs
WABCO® 4S/4M and 6S/6M Anti-lock Braking System (ABS) with and without traction enhancement
1. Double-channel @ 4.5MM RBM
2. Triple-channel @ 5.6MM RBM
3. Quad-channel @ 6.7MM RBM
1. 100-150 gallon (378-567 liter) aluminum – RH
2. 100-150 gallon (378-567 liter) aluminum – LH
3. 90-120 gallon (340-453 liter) steel – RH
4. 90-120 gallon (340-453 liter) steel – LH
Resources
Access the latest 6900 product information, videos and images.