A truck that combines value, versatility and productivity, all to get the job done
Tough and versatile, the 4700 is more than just a great value. It's a great truck. Its excellent efficiency and maneuverability make it perfect for local and regional hauls as a tractor, while its rugged dependability gives you the performance you can count on for almost any vocational application. In fact, the 4700 is purpose-built to deliver Western Star quality to everyone.
CLEAN BACK OF THE CAB
Makes it easy to add the body you want with no oddly placed stacks or brackets to get in the way and flexible exhaust options help to save as much as a foot of chassis length.
THIRD POWER DISTRIBUTION MODULE
Incorporates a circuit board design for higher power capacity, allowing for more switches and controls. Conveniently located in place of the glovebox, providing more space between the seats.
MULTIPLE PTO OPTIONS
Front or rear engine PTO available with optional rear-mounted PTO on the Detroit™ DT12® for stationary applications. SAE PTO options for Eaton and Allison transmissions are also available as provision only.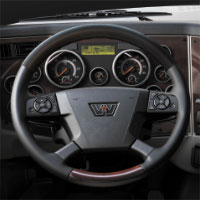 UPDATED INSTRUMENT CLUSTER
Gauges that provide more information to the driver in intuitive format. A multi-function LCD readout that delivers the data and alerts your driver wants to see most.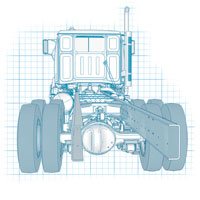 SINGLE-CHANNEL FRAME RAILS
Lightweight solution rated at 3.2M RBM. Factory custom-drilled for your application for added strength and faster upfit.  Single-channel construction resists corrosion.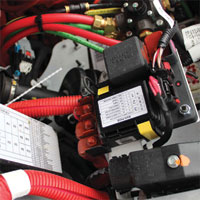 BODY-BUILDER FRIENDLY POWER & GROUND ACCESS
Adds interface points throughout the vehicle for ground interfacing. Adds heavy power interface to the front wall. Can be pre-wired between the seats. Offers ease of power access.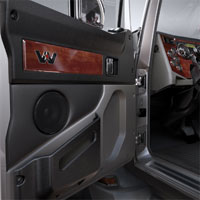 DOOR PANELS
Durable surfaces that are easy to clean. Deep storage pockets for easy access. Strong handholds to help you get in and out safely.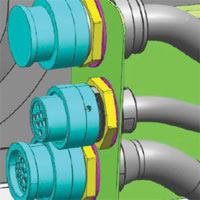 CUSTOMER INTERFACE CONNECTION (CIC)
Standardized, connector-based interface. Reduces upfit time. Allows for ease of finding a circuit/feature. Located between the seat and the back wall.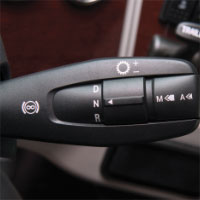 ADJUSTABLE STEERING COLUMN
Full range of motion for increased driver comfort. Left side: Turn signal with integrated wiper. Right side: Easy-to-use transmission and engine brake control stalk (pictured).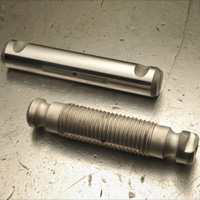 THREADED SPRING PINS
Greaseable threads prevent spring from moving side to side within the shackle. Our exclusive design threads the pins directly into the spring bushing providing much more stability, improved feel and overall handling.
4700 OUTBOARD CAB MOUNTS
Placed as wide as possible to maximize lateral stability. Provides a more comfortable ride on rough terrain and reduces body roll in turns.
LARGE DOOR OPENING
Makes it easier and safer to get in and out of the truck.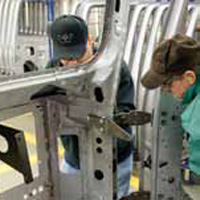 FORGED STEEL DOOR HINGES
Internally mounted to protect from the elements. Greater durability to prevent sagging -- a common problem with piano hinges.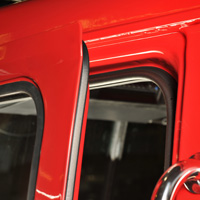 DOUBLE DOOR SEALS
Both the door and the cab have a weather seal that covers its perimeter. This double seal helps maximize the efficiency of our HVAC systems and provides a quieter ride.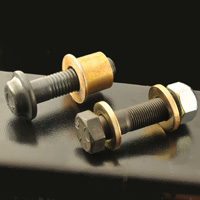 GRADE 8 FRAME FASTENERS
Grade 8 fasteners allow for optional equipment to be installed on the frame, and retorqued in the field as needed.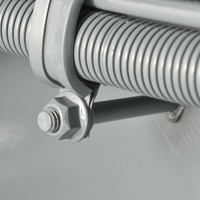 WIRING STAND OFFS
Our wiring and air bundles are supported off the frame rail. This allows debris to pass behind the bundle, eliminating the possibility of abrasion which can lead to electrical and air failures.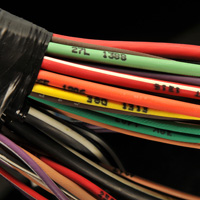 LASER-ETCHED CHASSIS WIRING
Laser etching and color coding ensures ability to troubleshoot wiring issues for the life of the truck.
CAB INSULATION AND SOUNDPROOFING
Barium insulation is placed between the double walled steel cab. This increases the thermal and acoustic insulation of the truck. Our floor pads are thick which further improves the quiet ride of a Western Star.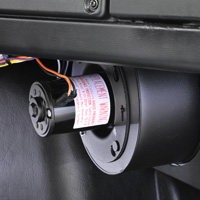 IN-CAB BLOWER MOTOR
Protected in the cab rather than being on the firewall and exposed to elements.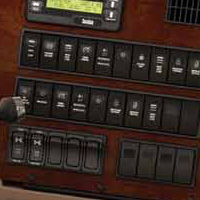 MARINE-GRADE ROCKER SWITCHES
Large waterproof switches are easy to operate with gloves on and are protected from water and salt which can create shorts.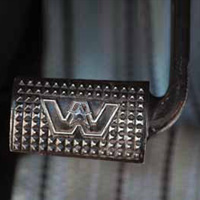 SUSPENDED PEDALS
Suspended brake, clutch and accelerator pedals are easy to clean, and prevent objects from becoming lodged behind pedals -- a great safety feature.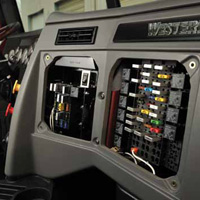 POWER DISTRIBUTION MODULES
The PDM and fuses are easily accessed by removing a panel on the passenger side dash. This allows you to sit comfortably in the cab when working on fuses rather than accessing them in an exterior location.
WIRING RACEWAY
We put our body builder interface connector and transmission control unit in the cab and out of the elements. You'll find a bolt-in pass-through plate in the cab floor to eliminate unnecessary drilling, and a dedicated floor channel with an easy-to-remove top that provides plenty of room for you to run your own wiring.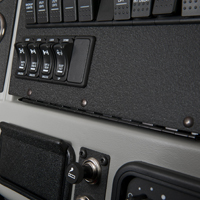 HINGED DASH
Provides quick access to wiring for service.
We never stop working to make the 4700 stronger and safer.
Adaptive Cruise Control
ACC helps reduce driver fatigue by maintaining the set speed when the lane ahead is clear and automatically adjusting to maintain a safe following distance when a vehicle ahead is detected.
WABCO® ONGUARD™ COLLISION MITIGATION SYSTEM
This radar safety system detects objects and alerts drivers audibly, visually and physically, applying braking power and reducing engine torque to help diminish collision severity.
We know you want a choice when it comes to your truck engine. With Detroit and Cummins options, you can pick the right engine to get the job done with efficiency, toughness and power.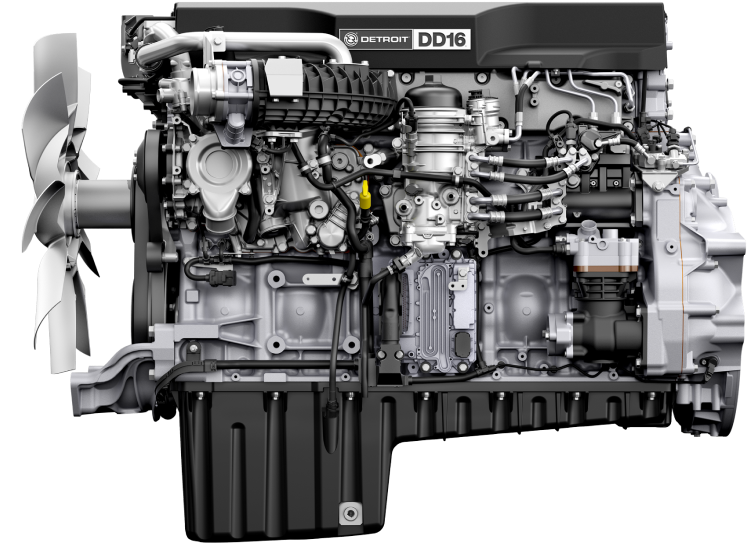 1. Standard galvannealed steel with roped-in windshield
2. Severe Duty galvannealed steel with roped-in or bonded windshield
1. Optional pre-cleaners
2. Optional inside/outside air with snow doors and dash switch control
1. Cummins L9, 260-380HP, 720-1250lb-ft.
2. Cummins X12, 350-500HP, 1250-1700lb-ft.
3. Detroit™ DD13®, 350-505HP, 1250-1850lb-ft.
1. Detroit™ DT12®
2. Eaton Fuller 10-, 11-, 13-, 15- and 18-speed
3. Eaton Fuller Ultrashift PLUS
4. Allison Automatic 3000, 3500, 4000, 4500, 4700
1. Detroit™ single 12,000-23,000 lbs
2. Meritor single 12,000-22,000 lbs
3. Meritor front drive 16,000-18,000 lbs
1. Detroit™ tandem 40,000-46,000 lbs
2. Meritor single 21,000-30,000 lbs
3. Meritor tandem 40,000-52,000 lbs
4. Detroit™ single 23,000 lbs
1. Taperleaf 12,000-20,000 lbs
2. Flatleaf 14,600-23,000 lbs
1. AirLiner® 21,000-46,000 lbs
2. Hendrickson 40,000-52,000 lbs
3. Chalmers 40,000-52,000 lbs
4. TufTrac® 40,000-52,000 lbs
5. Proprietary spring 23,000-30,000 lbs
1. WABCO® 4S/4M and 6S/6M Anti-lock Braking System (ABS) with and without traction enhancement
2. Air Disc Brakes
1. Bendix AutoVue® lane departure warning system
2. WABCO® OnGuard™ radar collision avoidance/ mitigation system
3. Adaptive cruise control
1. Single-channel @ 2.6-3.2MM RBM
2. Double-channel @ 3.7MM RBM
3. Front frame extension – splayed 12" and 24"
1. Aluminum 23" and 25" cylindrical 50-100 gallon (189-379 liter)
2. Steel rectangular 60 and 90 gallon (227 and 340 liter)
6, 13 and 23 gallon (23, 49 and 87 liter)
1. Multiple clean back-of-cab configurations
2. Dedicated floor channel to easily route harnesses
3. Quick-access, bolt-in, pass-through plate in cab floor
4. Standardized, connector-based body builder
5. interface in the cab
6. Standard in-cab batteries with optional frame mounts
7. 3.2MM RBM single-channel frame rail
8. Third Power Distribution Module
9. Optional remote throttle interface
10. Optional remote start and stop
11. Multiple front and rear PTO options
Resources
Access the latest 4700 product information, videos and images.